NRSI Regional conference on

Innovations, Future Challenges : Exploring New Horizons in Nursing Research

May 01st & 02nd, 2019

Greetings from NRSI South Zone!!!

Nursing Research Society – India South zone is privileged to announce the Regional conference on 1st and 2nd May 2019 at Aster MIMS Hospital, Calicut. Participating institutions are MIMS College of Nursing, Puthukode, Malappuram, JDT Islam College of Nursing, Calicut and West Fort College of Nursing Thrissur.

We cordially welcome all the eminent researchers, faculty, students and delegates to take part in this upcoming nursing research conference, to witness invaluable scientific discussions and contribute to the future innovations in the field of nursing and its allied areas. The organizers believes that research oriented education in nursing is essential in the training of clinicians and academicians. Nursing Research Society's conference (South Region) will boost this thought and the conference at Calicut, Kerala, South India this year which will provide the future leadership in this key area for global health.
Scope and Importance of NRSI Regional Conference
Nursing encompasses a range of disciplines, techniques, procedures, and skills that share a common basis with other specialties, but are modified and adapted to the unique requirements of infants, children, adolescents, and those with special health care needs. By being an age-specific specialty, nursing encompasses disciplines such as behaviour guidance, care of the medically and developmentally compromised and disabled patient, supervision of health problem and development, disease prevention and health promotion along with pharmacological management.

These skills are applied to the needs of patients throughout their ever-changing stages of development and to treating conditions and diseases unique to growing individuals. Since Nursing is vast with many specialties and sub speciality, researchers from all these domains of nursing are invited to be part of this conference.

Theme:
Innovations, Future Challenges: Exploring new horizons in Nursing Research
This Conference will provide a perfect platform addressing:
Commendable talks by the first-string of the nursing scientific community.
Sterling workshop sessions.
Remarkable Awards and Recognition to meritorious Researchers.
Networking with Nurse Researchers from South India Novel Techniques to Benefit Your Research.
Exquisite platform for presenting and exhibiting your research in terms of papers and posters.
Why to attend?

We would like to enlighten the younger professionals on the importance of nursing research in their respective specialty to improve practice, education, professionalism and career improvement. We will look to create fascinating gathering of nursing & healthcare professional from in and around South India to discuss and confer on their latest research.
Aim

Conference will focus on advance research, directed toward its impact on clinical outcome through influential plenary sessions, sterling workshop, and poster and paper presentations. It is aimed at bringing together the experts to advance scientific knowledge about nursing research.

Objectives
To learn basics of conducting high quality research from experts
To provide a forum for research collaboration and partnerships between clinicians at various institutions.
To foster a culture of inquiry through sharing (dissemination) of research.
To enhance knowledge of methodological issues in nursing research.
To contribute to the dissemination of new knowledge through discussions, networking, and workshops.
To create a consciousness of quality and rigor in nursing research happening in India.

Target Audience
Nurse Researchers, Faculty, Clinical nurses, Postgraduate students and academicians

Invitation

We, MIMS College of Nursing, Malappuram, JDT Islam College of Nursing, Calicut and West Fort College of Nursing Thrissur are delighted to invite your participation to the NRSI South Zone Conference to be held on 1st and 2nd May 2019.

Organizing Chairperson
Dr. Assuma Beevi T.M.
Director MIMS Academy & Principal, MIMS College of Nursing, Malappuram.

Organizing Co-Chairpersons

Prof. Shirley Prakash
Principal, West fort College of Nursing, Thrissur
Prof. Sunitha P.C.
Principal, JDT Islam College of Nursing, Calicut.
Organizing Secretary
Dr. Sheeja C.V.
Professor, MIMS College of Nursing


Scientific Committee Chairpersons

Mrs. Elizabath K Xavier
Associate Professor
MIMS College of Nursing, Malappuram, Kerala.
Prof. Jolly Daniel
JDT Islam College of Nursing, Calicut, Kerala
Mr. Haneesh V Cyril
West Fort College of Nursing, Trissur, Kerala
---
---
Call for paper/ poster presentation (02-05-19)

Description
Paper
Poster
Eligibility
Registered candidates
Registered candidates
Entry
Individual
Individual/ Group
Awards
Best paper
Best poster
Certificates
All Participants
All Participants
Size

350 words

Times New Roman(12)

100 cm × 100 cm

Evaluation criteria

Relevance of topic

Presentation

Relevance of topic

Face value
Presentation Time
5-8min
------
Venue
Venue-1
Venue-2
General Instructions



Scientific papers and posters relevant to Nursing are accepted.


Abstract/title must contain the following details:
Name of Authors, Department, Institution, address with e-mail id and signature of the author
Abstract/Full Text should reach the Chairperson, Scientific committee (events@mimscon.com) on or before 10th April 2019.
Selected candidates will be intimated through mail
Contact us
Registration form-www.mimscon.com/events.php
Telephone-04832832992
Email: events@mimscon.com
Registration

Prof.Isha S Mob: 09745088304
Prof. Georly George- Mob: 9526200279
Mr. Subin P.S. - Mob- 9745250062
Ms. Priya M- Mob: 08113878472
Scientific Committee

Ms. Elizabath K Xavier, Mob: 09544482940
Mr. Haneesh V Cyril, Mob:8075788836
Prof. Jolly Daniel, Mob: 9446468291
Accommodation & Transportation

Mr Jibin V Varkey, Mob: 09496592440
Mr. Abid Faheem, Mob: 09809649910
Prof. Ashok Kumar, Mob: 9037505678
Registeration Fees :
Payable as DD / Online Transfer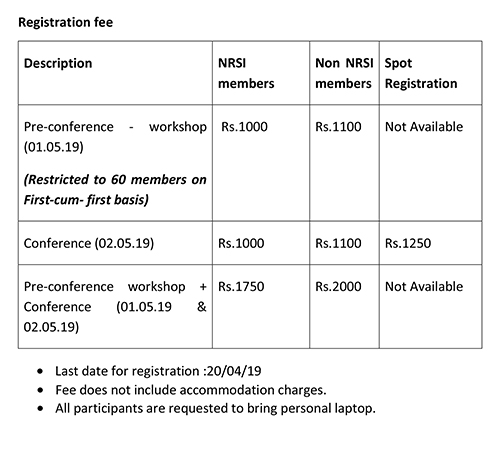 Payment Account & Bank Details:
Bank : Kerala Gramin Bank
Branch : AZHINHILAM
Branch Code : 40154
IFSC : KLGB0040154
Account No: 40154101058712
Account Holder : MIMS COLLEGE OF NURSING: NRSI-REGIONAL CONFERENCE